There's a story here.
At the beginning of every new season blog post I am pretty sure I begin with saying the same thing.
I start with the fabric.
It seems to me that sewists are in two camps, those who love fabric and think "What can I make with this?" and those who are taken with a pattern and go shopping to get what they need to make it.
Me. I'm a fabric person.
Because I have sewn all of my own clothes for 50 years, incredible by completely true, I also have frequent attacks of fabric nostalgia when a classic fabric shows up again.
I feel that way about pinwale corduroy, fabric from my younger sewing days and beyond, and I was so, so happy to see it in Fabricville in so many versions this fall. Of course, I immediately decided I wanted to make a corduroy shirt dress (I am sure I made my first one to wear to high school) and decided to use this McCall's pattern as a base. I was particularly taken with this dark blue/navy pinwale with some stretch in it.
Then something happened. I did something I never, ever do.
I went to the mall. Actually, I was there killing some time waiting for someone else to be finished with something, so I walked around and did something I haven't done in years.
I went into the stores.
My first impressions were of course a) they were charging a lot for poor-quality fabric and construction b) I could make that and make it better myself.
What I am talking about of course is the Shacket. Sort of a big shirt made of heavy fabric and/or lined, the shacket seemed to me to be a garment I would wear a lot. More than I would wear a nostalgic corduroy shirt dress to tell you the truth. These days I spend a lot more time dog walking, kid driving, casual coffee drinking, and campground cruising than I do in a classroom.
I went home and cut off my shirt dress and make myself a Shacket, which, I might add, I have been wearing all the time.
It turns out that this was a natural transition for this pattern. Raglan sleeves are particularly good for outwear, I think, as they doesn't stack the same seams over those on the garments underneath. Raglans are also easier to take on and off (that big armhole). The only design change was to add two simple patch pockets to the front, because it doesn't seem right to have a jacket with nowhere to put your hands.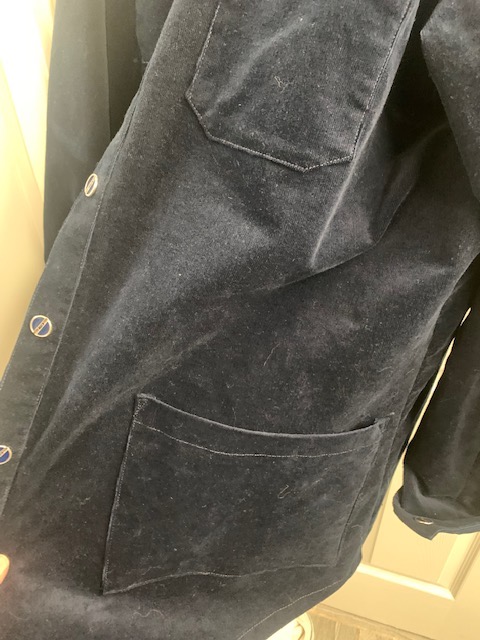 If you've looked at them, you'd know that many shackets are very long, and I considered that, but in the end, arrived at a length that I knew would cover my longest sweaters.
Honestly, I think this corduroy I absolutely perfect in this garment.
What do you think?