August 22, 2023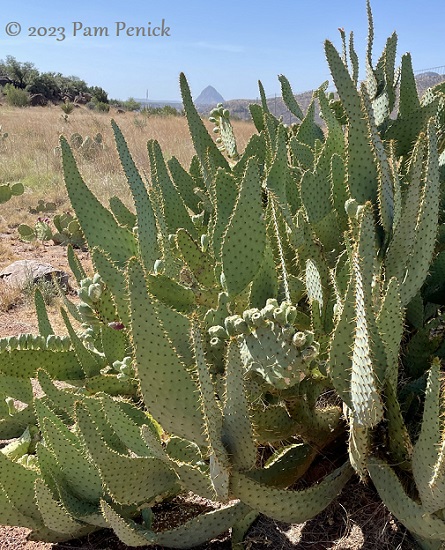 While visiting far West Texas last month, a few people mentioned the Chihuahuan Desert Nature Center and its botanical garden, located just outside of Fort Davis. So one morning my friend and I drove over from Marfa to check it out.
It had been a monsoon-less July in West Texas. The morning we visited, the sun was intense and the day growing hot — at least by the standards of Fort Davis, which, at nearly a mile above sea level, enjoys cooler summers than much of Texas. In the shade of a tree or porch, the dry summer air felt deliciously cool compared to what I'd left behind in Austin.
Chihuahuan Desert Nature Center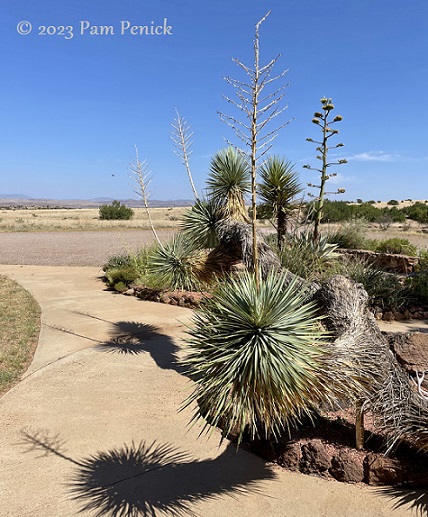 A sprawling, trunking yucca and its crisp shadows greeted us at the visitor center. All around, tawny yellow grassland stretches toward the lavender volcanic peaks of the Davis Mountains. Our Lady Bird Johnson Wildflower Center memberships got us free reciprocal admission into the garden, and off we went, sunhatted, sunscreened, and carrying topped-off water bottles.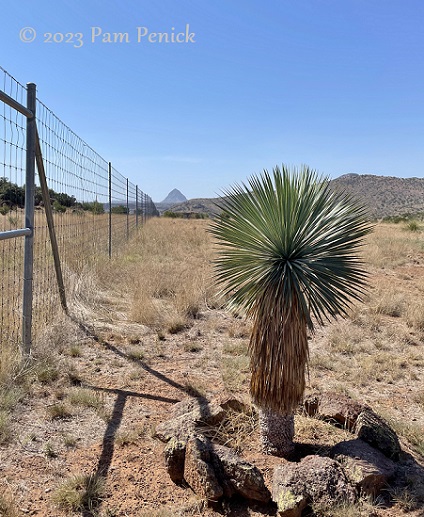 The 500-acre nature center offers miles of trails through desert grassland into a spring-fed canyon with rare madrone trees and up rugged hillsides. We were there, however, to see the 18-acre botanical garden showcasing native Chihuahuan Desert plants. At the deer-fenced entrance, I stopped to admire a beaked yucca and conical Mitre Peak in the distance.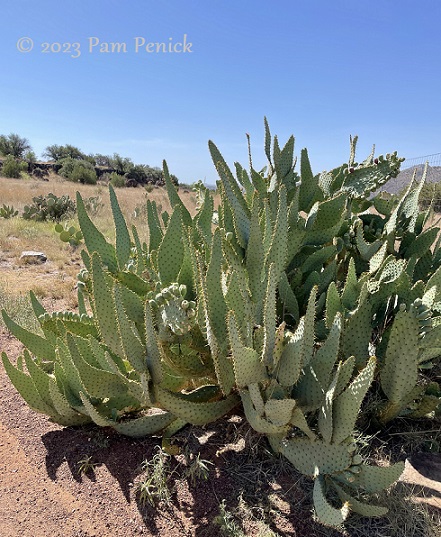 Cow's tongue prickly pear — one of my favorite opuntias for those lanky, bovine-esque pads.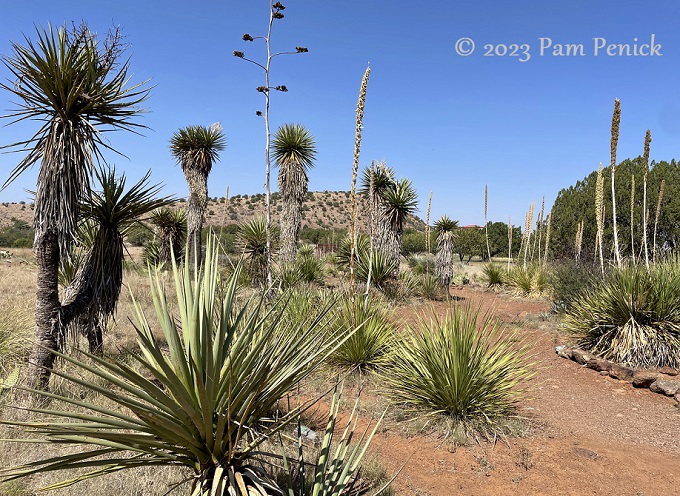 Spiny yuccas, sotols, and agaves go vertical with skinny bloom spikes or shaggy trunks.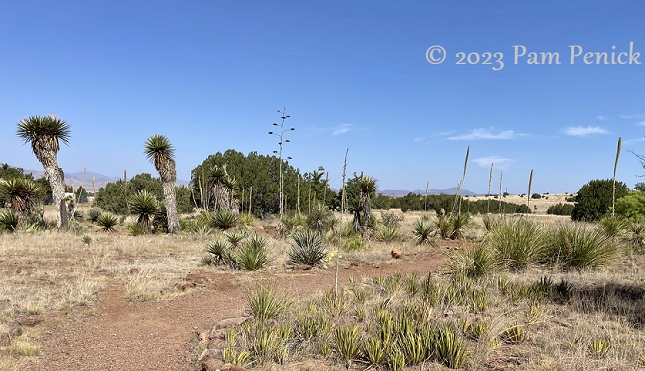 A wide view shows a desert grassland that greens up when the monsoon rains arrive in summer, punctuated by yuccas, sotols, and small trees.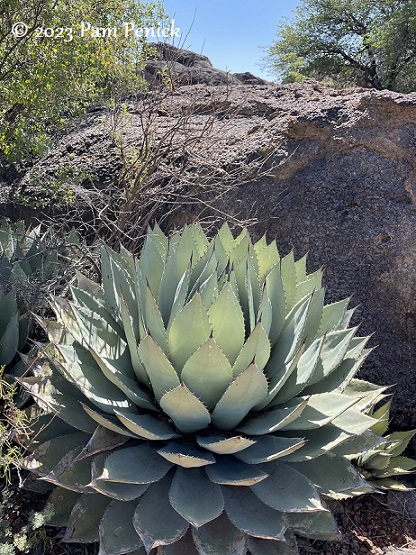 A beautiful agave (Harvard? New Mexico?) tucked against a volcanic boulder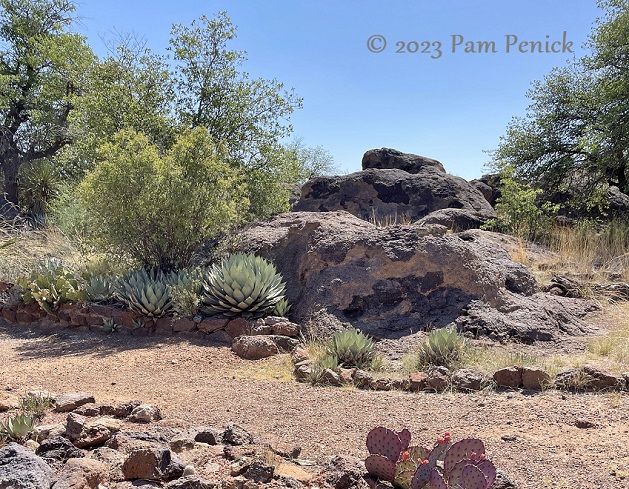 A wider view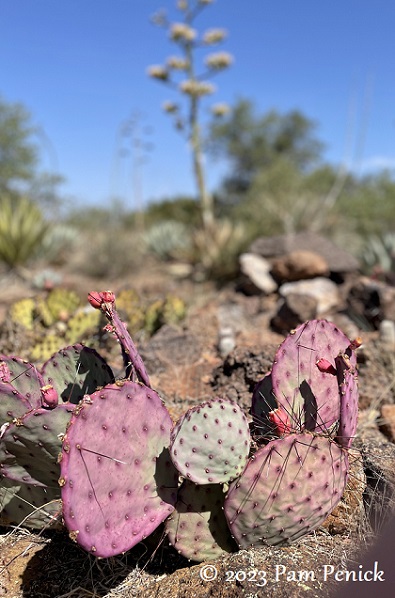 'Santa Rita' prickly pear showing off striking magenta coloring enhanced by drought stress.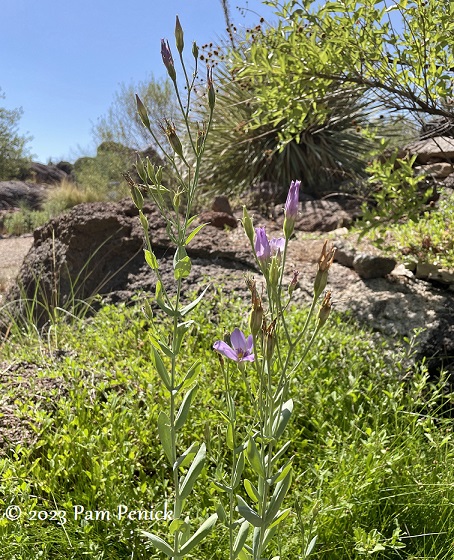 Alongside a small pool, a purple wildflower makes its offering to bees and other pollinators.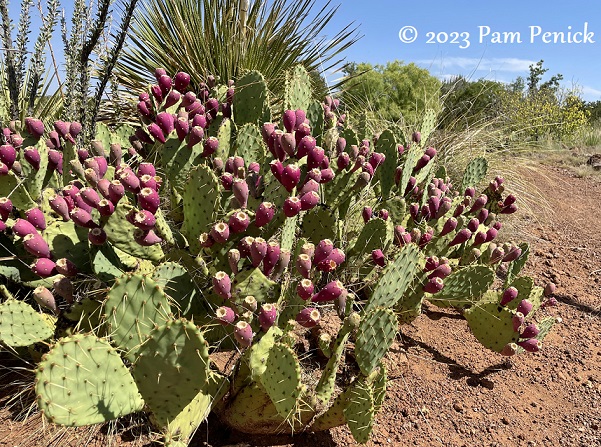 The magenta tunas (fruit) of a prickly pear add jewel-like color to the arid landscape.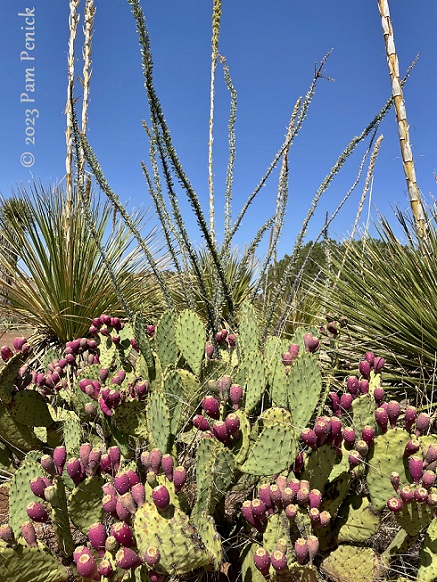 Behind the prickly pear, sotol's spear-like bloom spikes frame the bent pipe-cleaner stems of an ocotillo.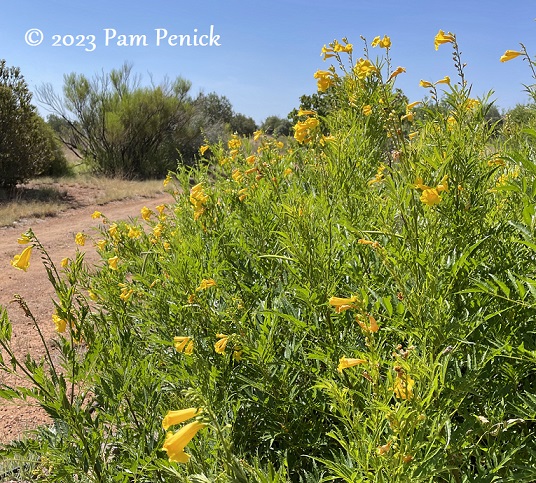 Yellow bells esperanza in its native habitat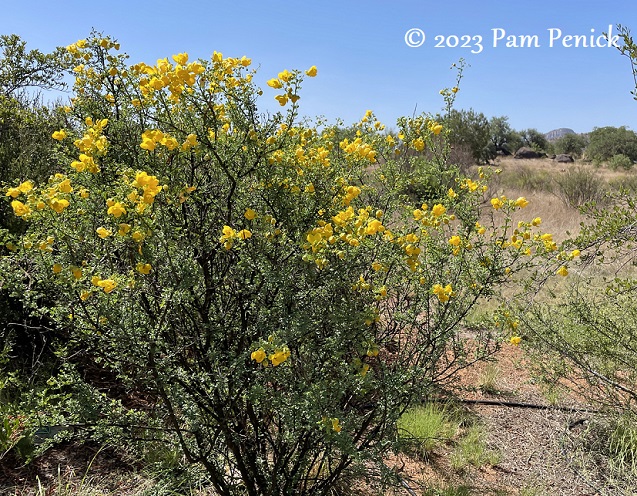 Canyon senna (Senna wislizeni) is a new-to-me desert shrub, with stunning, butter-yellow flowers.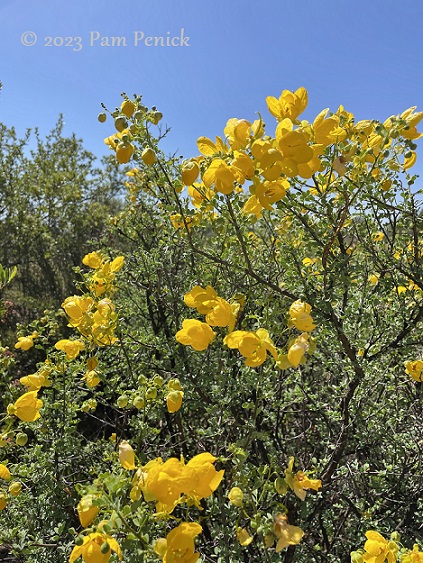 Gorgeous!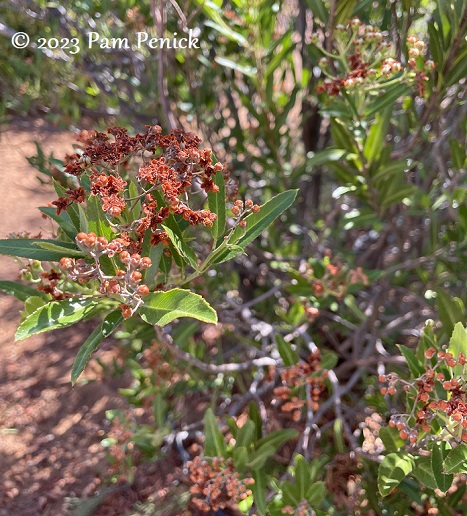 This reddish flowering shrub was labeled narrowleaf rosewood (Vauquelinia corymbosa var. heterodon), but is that right? Online sources show narrower leaves and creamy flowers.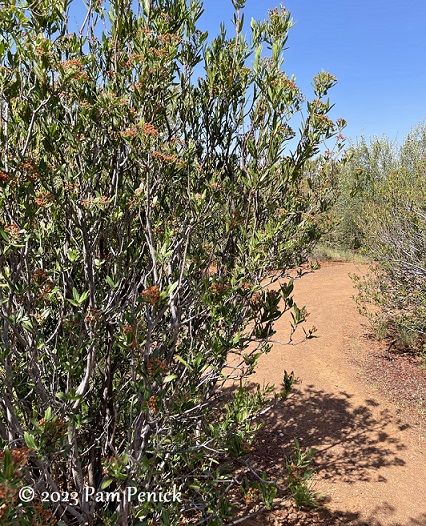 Here's a wider view of this upright mystery shrub.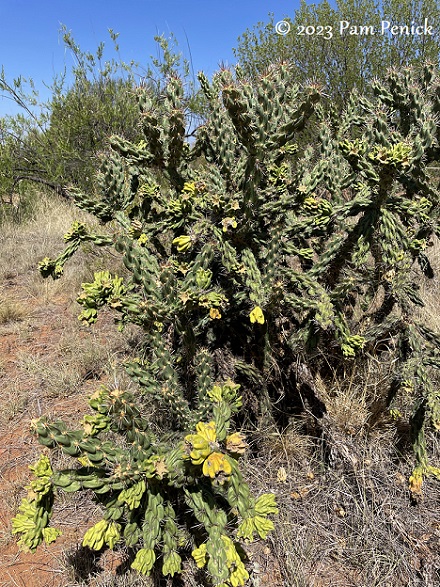 Cholla with yellowing fruits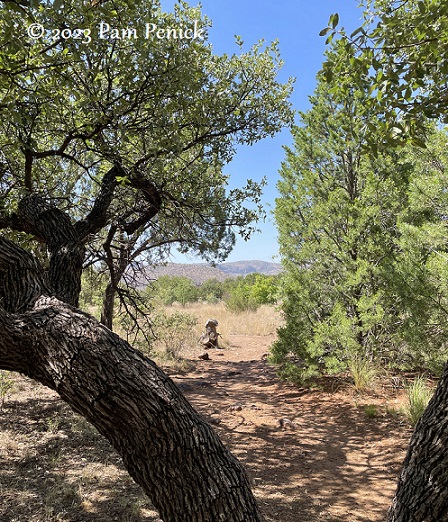 In the shade of a grove of trees, I enjoyed views of the surrounding mountains…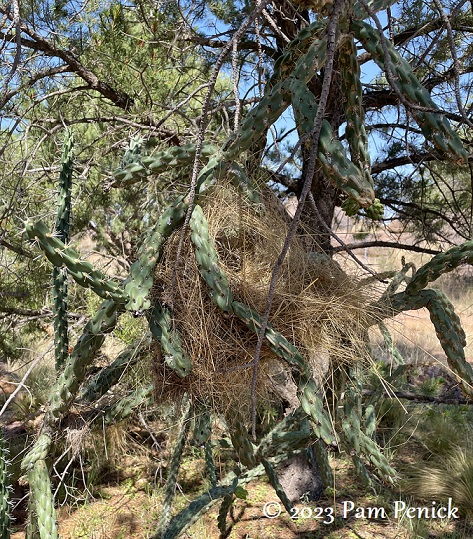 …and this bird nest cleverly woven within the spiny arms of a cholla.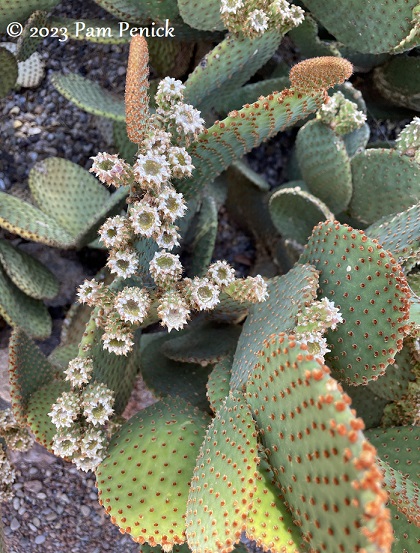 Bunny Ears prickly pear with cinnamon-colored spines and white-rimmed fruits forming post-flowering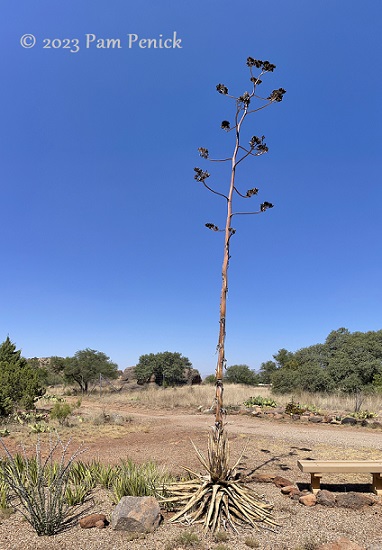 An agave completely spent after sending its final burst of energy into a towering bloom stalk
Maxie Templeton Cactus Museum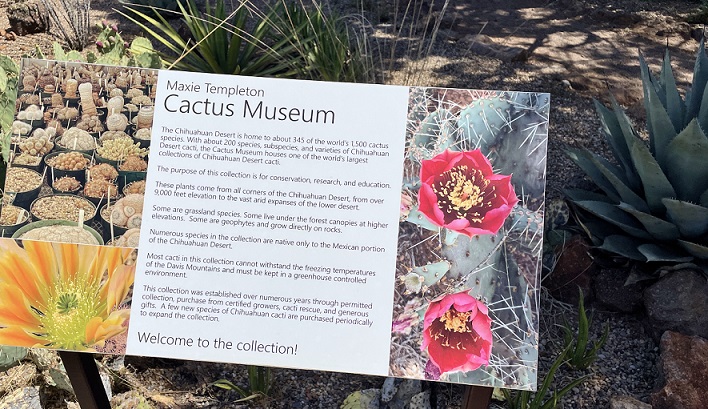 At the rear of the botanical garden's loop trail you find the Maxie Templeton Cactus Museum Collection, "one of the world's largest collections of Chihuahuan Desert cacti, with ~200 species, sub-species, and varieties of cacti and succulents."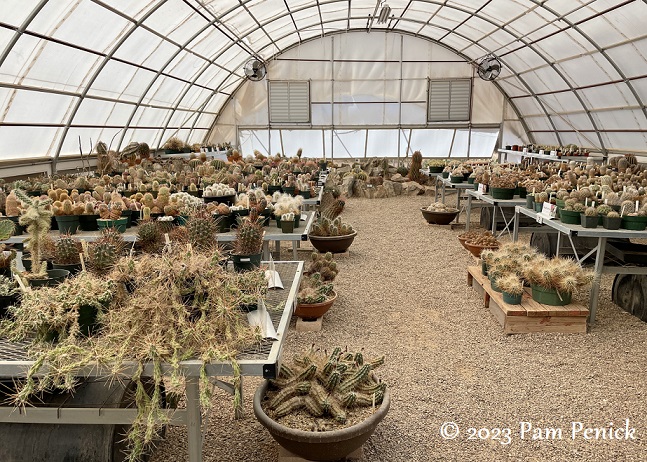 Inside a greenhouse is a shades-of-tan collection of spiny cacti.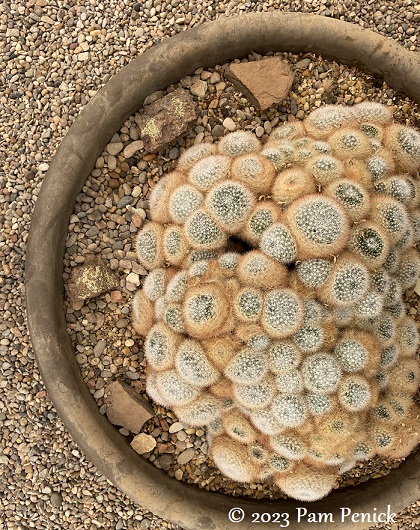 A closer examination reveals the beautiful details. Here's a mound of button-like mammillaria cactus.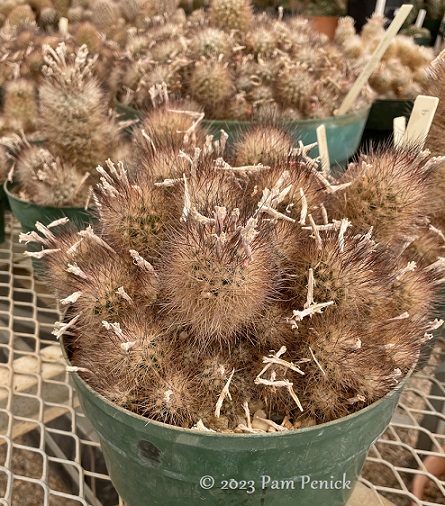 And furry escobaria cacti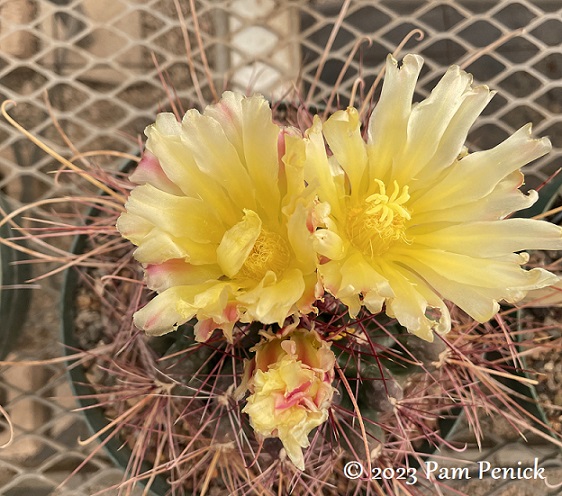 Pale-yellow ferocactus flowers streaked with pink hover over rose-colored spines resembling long fishhooks.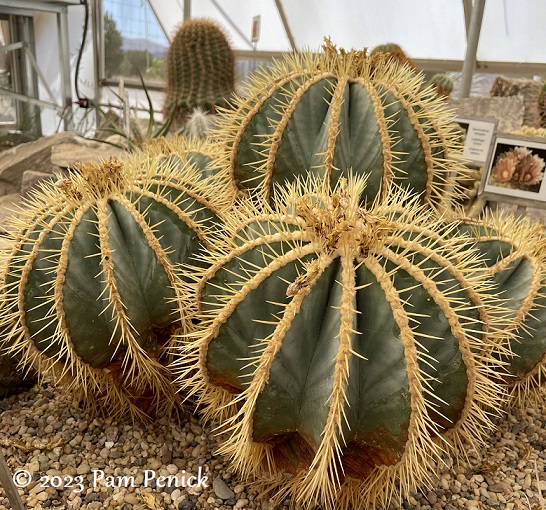 Pinstriped and pleated blue barrel cactus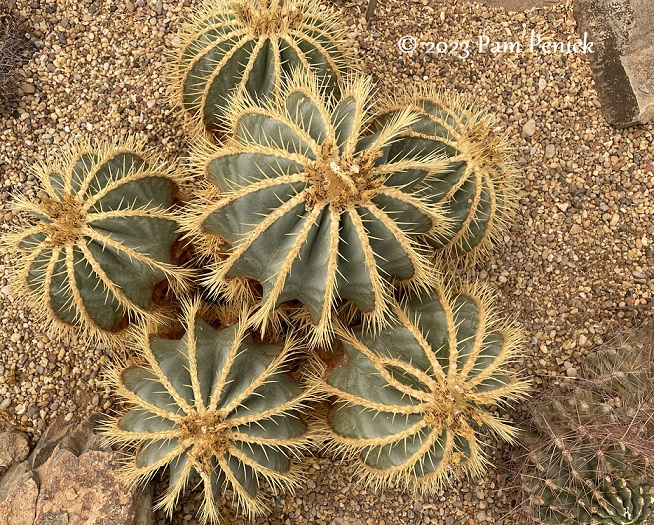 Looks just as good from above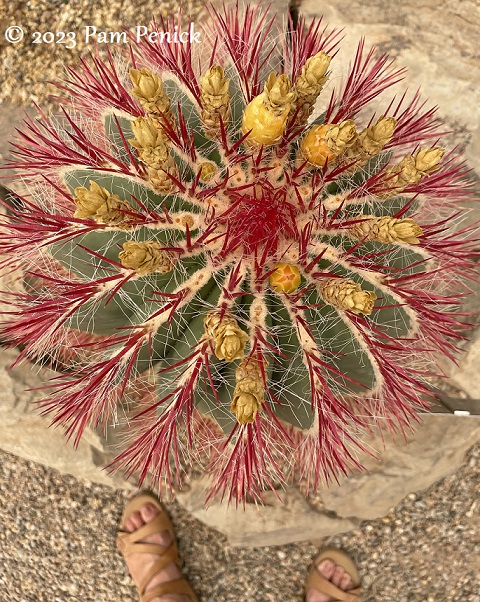 Mexican fire barrel cactus shows off pineapple-like flowerbuds and scarlet spines.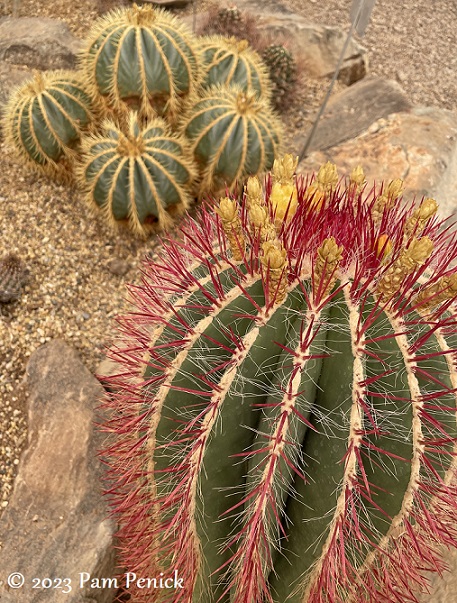 What a gorgeous pair.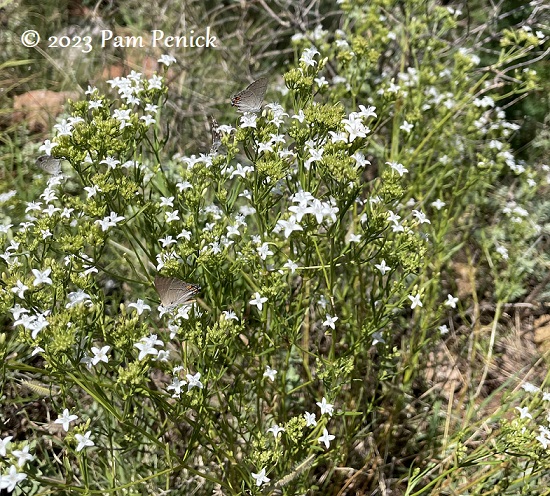 Heading back, we noticed a small, white-flowering shrub attracting dozens of flitting gray butterflies.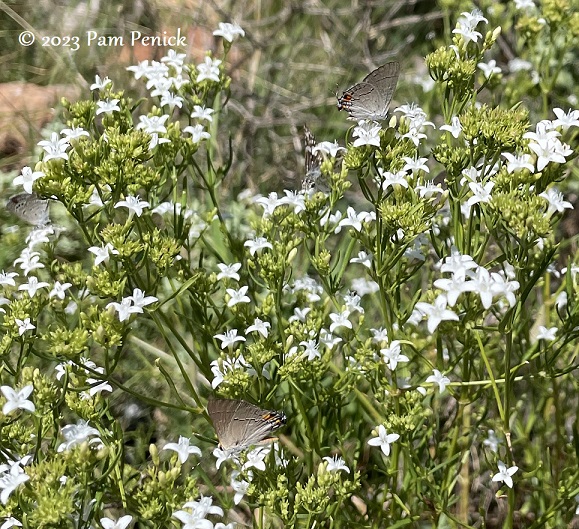 They are gray hairstreaks, I think.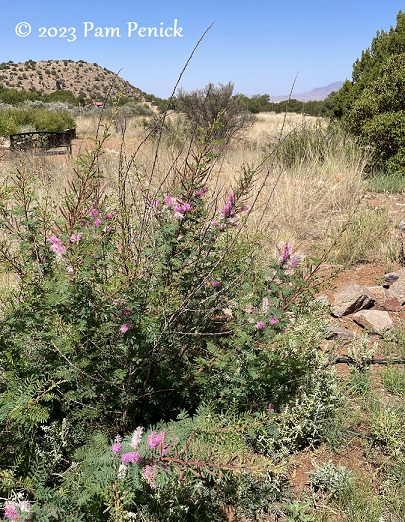 Velvetpod mimosa (Mimosa dysocarpa) with fuzzy, pink bottlebrush flowers adds a dash of bright color.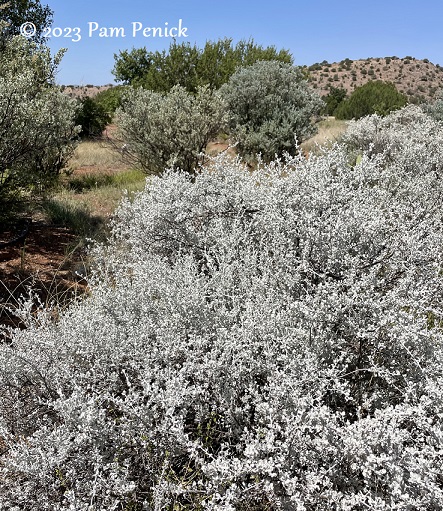 Boquillas silverleaf (Leucophyllum candidum), a relative of the airier, upright cenizo of Central Texas, caught my eye with its tiny silver leaves and mounding form.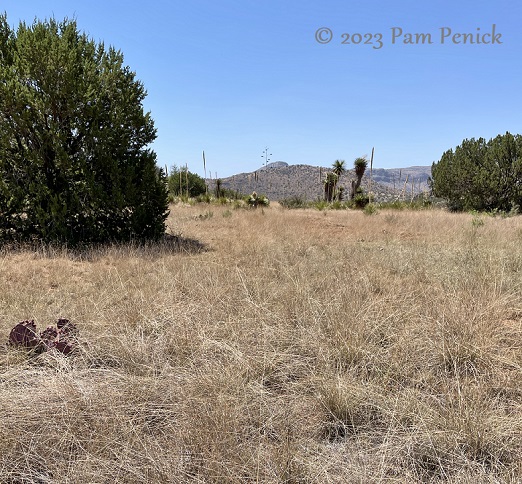 Grasses, yuccas, and mountains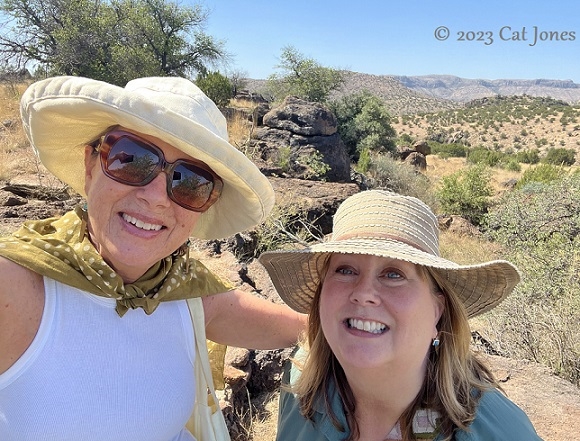 Cat and I enjoyed our exploration of Chihuahuan Desert native plants.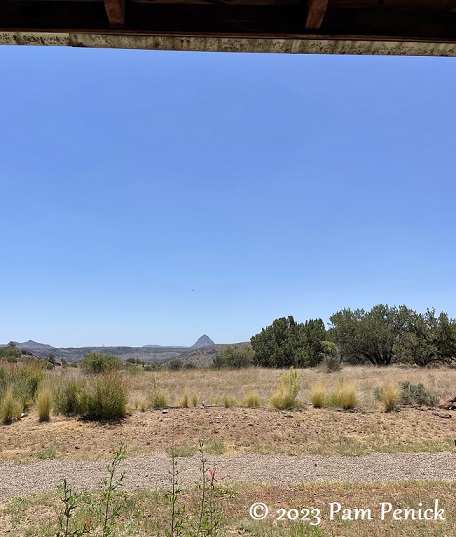 We'd brought a picnic lunch in a cooler and sat on the visitor center's shady porch to enjoy it. What a lovely view of Mitre Peak, as hummingbirds zipped around us.
Gift shop bookstore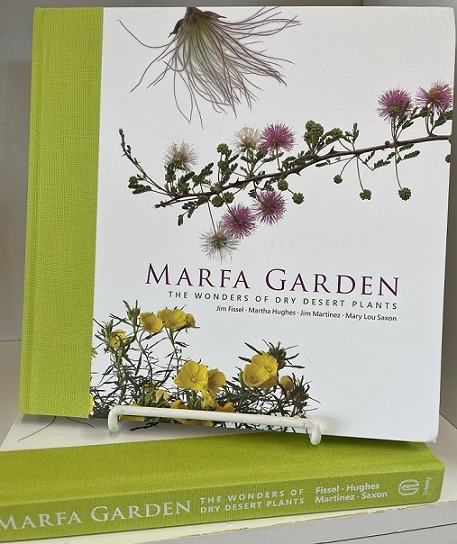 In the gift shop, I spotted the beautiful book Marfa Garden by Marfa designer Jim Martinez, Jim Fissel, Martha Hughes, and Mary Lou Saxon.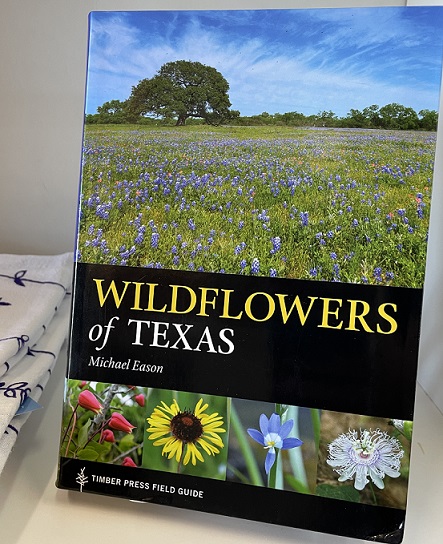 Also, Alpine/San Antonio-based designer Michael Eason's essential field guide Wildflowers of Texas (which now has a new cover).
Fort Davis courthouse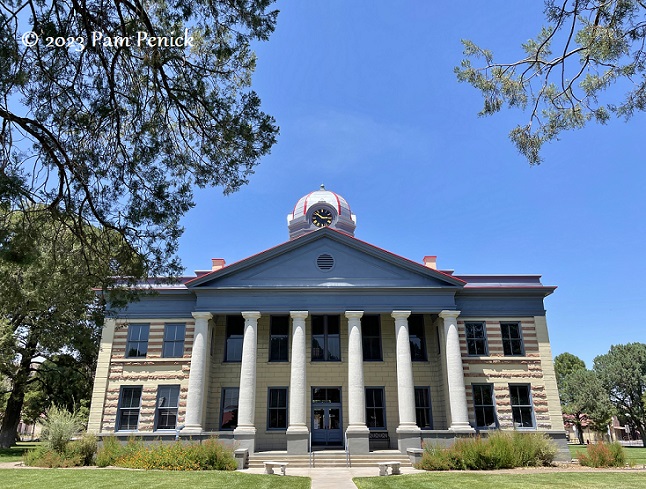 After lunch we stopped at the picturesque Jeff Davis County Courthouse and poked around a few shops in town.
McDonald Observatory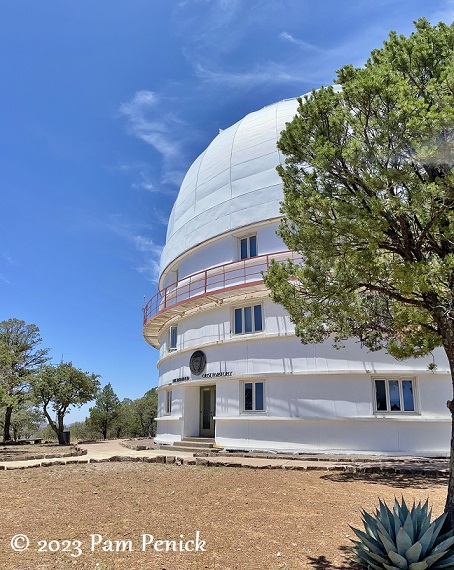 Then we drove up into the Davis Mountains to see the McDonald Observatory.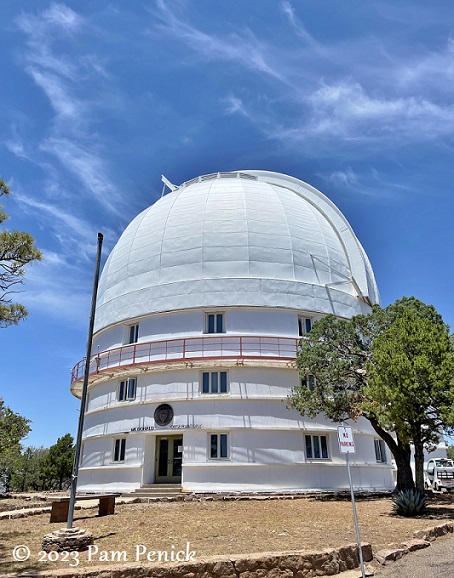 I'd been once before, on a family trip. I'd still like to come back on a clear night to look at the stars.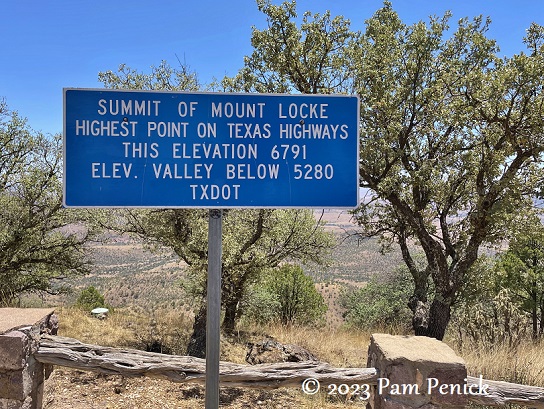 This is the highest point on Texas highways at 6,791 feet in elevation.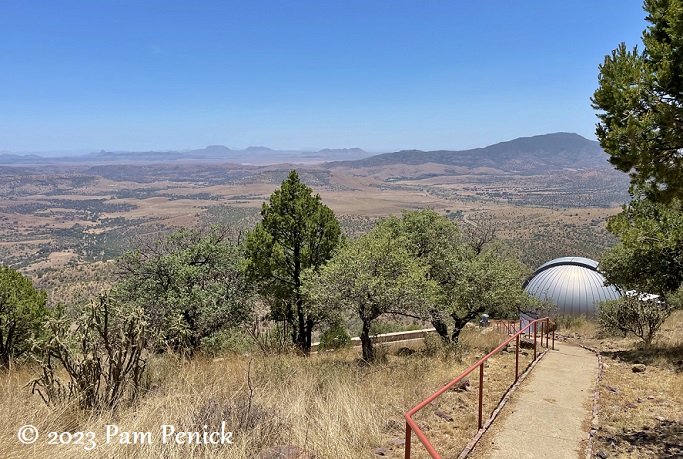 The views are Texas-sized. Well, not really. But they're grand.
Up next: One last stop on my West Texas road trip, at the historic Gage Hotel in Marathon. For a look back at designer and author Michael Eason's personal garden in Alpine, click here.
I welcome your comments. Please scroll to the end of this post to leave one. If you're reading in an email, click here to visit Digging and find the comment box at the end of each post. And hey, did someone forward this email to you, and you want to subscribe? Click here to get Digging delivered directly to your inbox!
__________________________
Digging Deeper
Come learn about garden design from the experts at Garden Spark! I organize in-person talks by inspiring designers, landscape architects, and authors a few times a year in Austin. These are limited-attendance events that sell out quickly, so join the Garden Spark email list to be notified in advance; simply click this link and ask to be added. The Season 7 lineup can be found here.
All material © 2023 by Pam Penick for Digging. Unauthorized reproduction prohibited.


Source link

#Native #plants #Chihuahuan #Desert #Botanical #Garden #West #Texas