Week one of our February Hold-Along is in the books and I must say that the creative ways our makers are holding it all together is inspiring. With different yarns, and a variety of colours, you guys are really cranking out some pieces that look wholly unique. This week, we're having a craft-in video session, and down below, I'll share some upcoming events you can look forward to through the rest of the month.
Hold-Togethers (video chats!)
Tomorrow, Tuesday, the 7th, we're going to test out the Voice Channel feature on Discord for a Hold-Together session. Discord's voice channel has a video feature, so we'll be able to turn on our cameras (if you want) to show off our work, chat together, and work on our projects for an hour. It's super casual, join us Tue, Feb 7 at 2pm EST / 1 pm CST / 11 am PST on the Discord Voice Channel. Here's the LINK to join us.
We're having one other Hold-Together on Feb 28 to showcase all our finished (or in-progress!) projects we've worked on over the month. We're going to see how the Discord Voice Channel goes before making a final decision on whether it'll be Discord or Zoom, but for now, go ahead and put Feb 28, 4 pm EST / 3 pm CST / 1 pm PST on your calendar.
Calendar of Events
Feb 7 – In-Progress Video/Talk Discord Craft-In (Hold-Together)
Feb 14 – Share Progress + Giveaway #2 Announcement
Feb 21 – Share Progress + Giveaway #3 Announcement
Feb 28 – Hold-Together Wrap Up Live Showcase (Video Craft-In) and Giveaway #4 for Attendees
Hold-Along Progress From Our Makers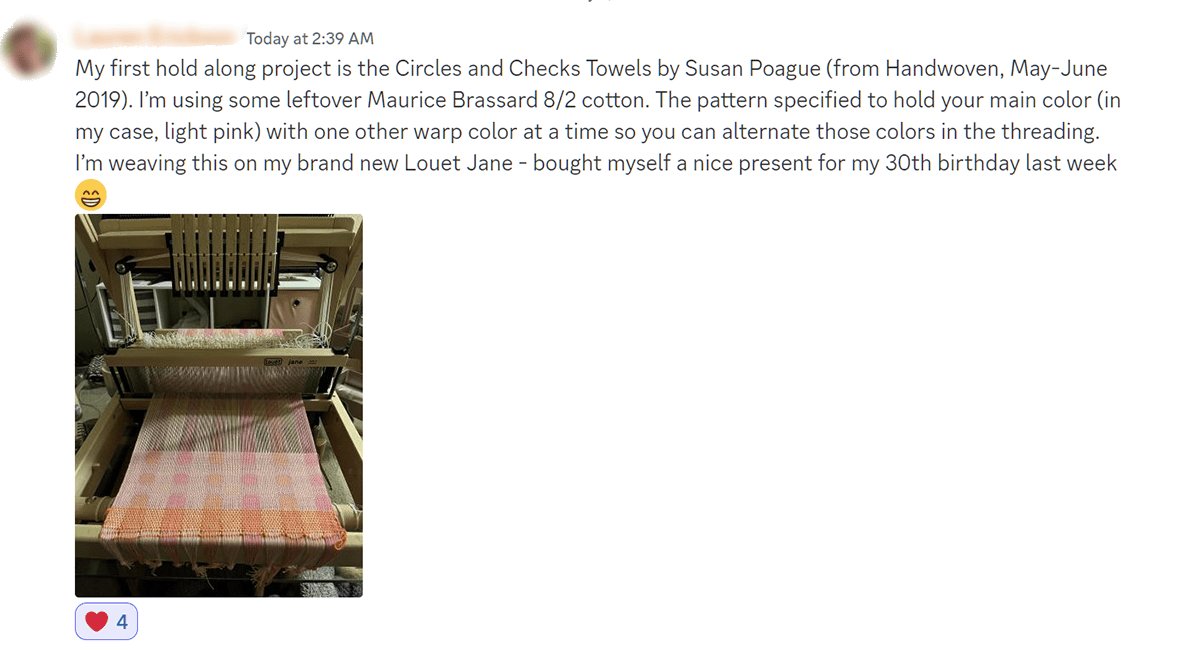 My Progress
I swatched with my three strands of lace-weight yarn and SWOON. I LOVE the colouring (see the photo at the top of this post). But… I ended up having to go back to the drawing board. After I swatched and blocked, I calculated a bunch of numbers to discover that I will be *just* shy of having enough to make the tee I planned. Grumble. So, I'm swatching with a couple of different needles and tweaking some measurements to see if I can make a tank version doable. Stay tuned for updates!
Keep sharing your progress with us on the School Community Forums and on Discord. You guys are doing great!